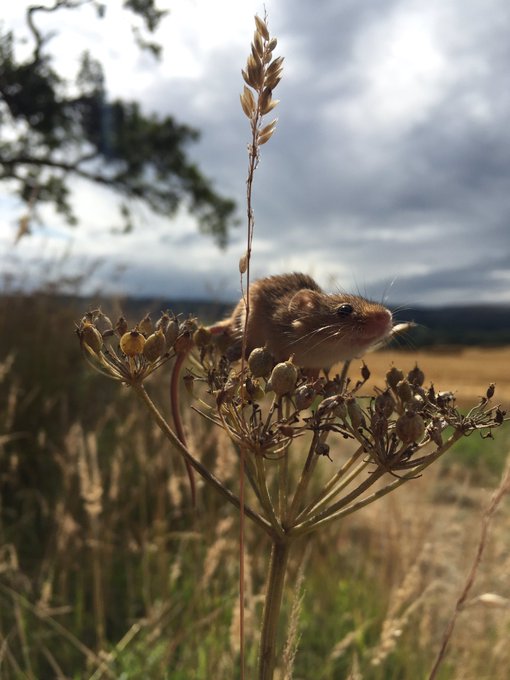 Wrapped up in duffle coats and bobble hats, the volunteers were still more than willing
to venture out into the biting cold of mid-January. Having admired my captive harvest mice, pirouetting through the heather stalks of their enclosure with all the grace of Cirque du Soliel acrobats, we took to the frostbitten wetland meadow of the Escot estate in Devon, in search of the abandoned summer nests of their wild cousins.
In the chaotic tussock-jungle of cocks-foot grass, reeds and bramble, we delighted in
finding over a dozen of the exquisite cricket-ball sized structures that still held firm to
the plants the mice had originally woven them into many months ago. Needless to say,
the participants were delighted, and a couple that managed a farm on the edge of
Dartmoor were keen to know how they could promote habitat for them on their land.
In response, I pointed at the untidy nature of the meadow that many would claim as
'neglected'.
"Essentially you want that – if you're going to have to mow, do so in small chunks on a
three to five-year rotation, and ensure that you're doing it as late as you possibly can.
These guys can be breeding right into autumn, so mid to late September absolute
earliest. Even better if you can do so in October.  They absolutely love the rough
tussocks formed by cocks-foot."
The initial reaction in their faces was as if they had just sipped a coffee they had
accidentally added salt into instead of sugar. "Ah… I mean we've always seen cocks-foot
as a weed to get rid of, for starters. And we'd never have thought to cut that late."
It's an understandable reaction, when the timing and method for cutting meadows has
been so deeply instated for hundreds of years. Meadows are not an ecosystem in an
original sense – they are a product of low-intensity farming created to provide winter
feed for livestock, that also just happen to be great habitat for a huge suite of plants and
animals, including harvest mice. Traditionally, these were cut in mid-June to July in
order to provide the most nutritious fodder, but with the industrialisation of agriculture
and the advent of silage, we have lost over 97% of these agricultural systems that
happen to benefit a lot of wildlife.
Ideally, if we were working on wildlife conservation at a greater landscape scale, we
would need relatively little to no management for harvest mice and other species that
favour such habitats. The former can still be found in great number in reed-beds, and in a time before farming, such species could be found in dynamic floodplains and other
areas that were opened up temporarily or permanently by factors such as soil quality
and wind-fall.
While we should aspire and work towards these larger landscapes where natural
processes take hold, in a country that is farmed across 72% of its land, making the most
of grassland habitats within these systems when possible, but particularly nature
reserves and urban areas, is crucial. Just like the harvest mice, the majority of meadow-
loving species' life cycles carry on right through to Autumn, and if these habitats are
now being managed for a wildlife-driven motivation rather than an agricultural one, the need for mid-summer cutting – certainly in terms of the whole meadow – should be obsolete.
So why is it, writing this blog a year and a half after that harvest mouse survey
workshop, I despair at the number of meadows I have seen cut to the ground in their
entirety by mid-summer – let alone early September?
Visiting a nature reserve not too far from my Bristol home at the end of July, what had
been three large meadows bursting with a huge number of butterflies compared to
what we're used to in Britain (although still nowhere near the scale I've seen in
Romanian grasslands), were now razed completely to the ground. What was once a
bloom of green, the pink of knapweed, and the gold of ladies bedstraw, now looked like
little more than the floor of a hay-barn.
At another reserve closer to home, managed by local government rather than a wildlife
charity as at the previous location, the same was apparent in all their fields. All in one
go, not even in spared swathes. Long grass was now only to be found at the edge,
sometimes at a few metres wide but generally no longer than my arm. From here, the
grasshoppers, Roesel's and Dark bush-crickets still sung the best they could like
optimistic refugees, but it was all far quieter than before.
Within Bristol itself, the parks, verges and open spaces have all been vociferously cut,
regardless of whether they are primarily of conservation purpose rather than one of
recreation. This was made very clear at a recent informal pub gathering of local
naturalists and landowners, hosted by environmental campaigner Alasdair Cameron
and myself. What was ostensibly a meet to discuss the regional opportunities for more
wilding in the region, grew into a critical discussion of the many examples of over-
zealous cutting seen in and around our city. Many of us were incredibly frustrated with
how sites had been bulldozed early – particularly disturbing was how a verge where one of the naturalists had observed a huge abundance of wild orchids was completely blitzed in a single day.
This is just a snapshot from my patch – but it doesn't take long to talk with friends from
across the country, and to browse the tales of many online, to see this of course goes on
nationally. Take for example the highest density water vole population in Britain, which
is not found by water, but in fact a series of parks and motorway verges in Glasgow.
Their greatest threat, alongside development, is over-zealous mowing.
Cut so early in the summer, while some plant species will have had the opportunity to
seed, many, such as the majority of scabious species, will have not. Either way, it
deprives many insects of a nectar source both immediately, and of course limits the
potential number of individuals that emerge the year after. In the short time it takes to
bring a meadow to ground level, the eggs and larvae of a huge number of butterflies,
moths, grasshoppers, crickets, beetles, flies and so many more invertebrates that will
still develop all through summer are exterminated in a flash, even if the adults are able
to get away.
With all the pressures facing our rapidly collapsing invertebrate populations from
habitat loss and pesticides, and subsequently the birds that feed on them, we simply cannot tolerate anything that cuts their numbers still further, no matter how small in the grand scheme of things.
The advice is clear. Akin to what I told the volunteers at the harvest mouse survey,
Buglife advise cutting no more than a third on a rotational basis and at September's end,
a recommendation also echoed also by Butterfly Conservation.
Early cutting in June is often justified by the fact that leaving it late allows more
vegetation die-back to build up on the ground, increasing fertiliser content and allowing
more rank grasses to grow and shade out wildflowers. But again, this can be mitigated
by cutting in rotational strips, allowing varying degrees of vegetation as would be seen
in a chaotic, dynamic, but importantly rich natural ecosystem. Nature conservation
organisations so often talk about how important habitat mosaics are, but looking at the
way entire meadows are destroyed, it appears they are frequently incapable of
practising what they preach.
And of course, rank and tussocky meadows are still incredibly valuable, particularly for
small mammals. There is of course the previously-discussed harvest mouse which needs
thick, high grass and herbage to support its aerial nests. But most especially there are
field voles, which are a highly important prey species. Able to make their nests and runs
under the thick-cover of previous years' grass-fall, the super-abundant populations of
these little mammals form the dominant food source of many larger animals, from barn
owls and kestrels to weasels and adders; and in the future, potentially reintroduced
pine martens and wildcats.
Many managers are bound by Environmental Stewardship agreements, which again
follow the farming baseline for when to cut a meadow rather than an environmental
one. But while these agreements require the area to be cut, often it is only at least a
third and is non-specific in timing. I am currently working with a very large
conservation body on a harvest mouse reintroduction, and was asked with concern how
to get around the fact our brilliant release site had to have at least a third of it cut
annually. When I suggested cutting it in small patches rather than a whole swathe in
mid/late September, they were more than happy to agree to that plan.
So why are so many conservation organisations and councils, often with incredibly
knowledgeable and able people at their helms, still blithely following the school of
"we've always done it this way"? When there is no justification based on farming systems or public safety (as is the case with some, but definitely not all, cutting of road verges), the act of cutting entire meadows in mid-summer should not be tolerated in a country that sits 29 th from the bottom of the most nature-deprived nations in the world.
With relatively little change, you could get huge bang for your buck. So many more
insects and wildflowers could liven up our reserves where they should be being
protected, but perhaps most importantly, in the parks and green spaces in our urban
areas. Here, connection to nature among the majority of our populace is urgently
needed.
One of the most enchanting things I found about the city of Auckland on my visit to New
Zealand six years ago were the 'cone parks' that abound there; steep on the peaks of
underground volcanoes, all left to nature. These tangled mini-jungles were almost
deafening with the sound of cicadas, bringing wildlife to the heart of the city centre.
While we may not have the cicada (unless we have wide-scale reintroduction of a
native species that was last found in the New Forest), we can still create a similar
indulgence of loud and visual insect abundance in our towns. Invertebrates can bounce
back very quickly, so initiation of reduced, later mowing schemes could give back within
a timescale so beloved by short-term policy makers.
Well-considered reintroductions of species to hook in public interest would also be
of benefit as these spaces are restored. In Zurich, a church in the city ended up with a
mysterious population of Italian glow-worms, undoubtedly deposited by an enthusiast.
Regardless, the local government and power station agreed to dim the lights around the
church in their June-July glowing season, and now thousands of citizens and visitors can
admire the stunning natural beauty of a city site lit almost entirely by insects.
It sounds like a fairy tale, but isn't out of the question if we restore properly-maintained
urban grasslands with healthy populations of their snail prey. This is the nature even
the non-interested can't ignore, and while many criticise 'sensationalising' wildlife,
projects like these are needed to grasp wider interest in conservation.
We could do so much for our nature with relatively simple measures practically, but it is
often the politics that makes getting things done about as easy as cutting a coconut with
a teaspoon. But if enough people can be made aware of what is going on locally and
speak out, and enough naturalists who spend time out in nature and truly understand
the rhythms of wildlife can be listened too. If they can bring this issue forward with the
governments of their local area and the organisations they are often members of,
change can happen.
Always be polite and well researched in your argument, but do not give in to
counter-arguments that can be surmised as, again, "we've always done it this way". We should always be learning and willing to adapt practice all the time. At the end of the day, and it really is an obvious statement that doesn't need saying, we should be tolerating as little denigration to the natural world as possible.
Changing the mowing regime of your local meadow may not be saving the rainforest,
but it is something. And sometimes even the small things can make a difference.