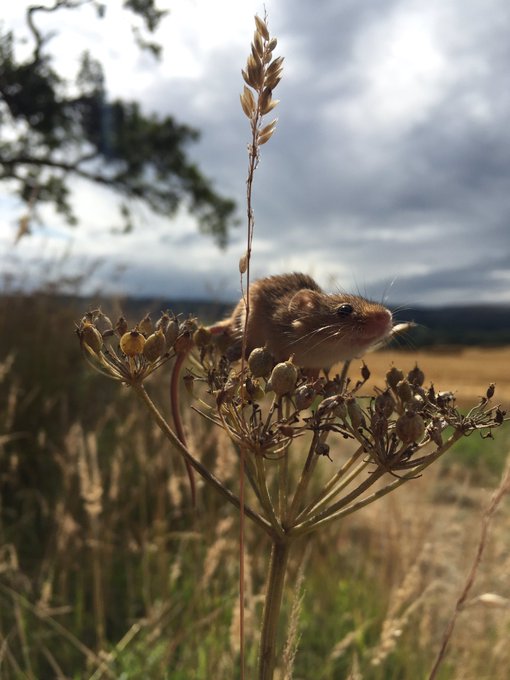 Wrapped up in duffle coats and bobble hats, the volunteers were still more than willing
to venture out into the biting cold of mid-January. Having admired my captive harvest mice, pirouetting through the heather stalks of their enclosure with all the grace of Cirque du Soliel acrobats, we took to the frostbitten wetland meadow of the Escot estate in Devon, in search of the abandoned summer nests of their wild cousins.
In the chaotic tussock-jungle of cocks-foot grass, reeds and bramble, we delighted in
finding over a dozen of the exquisite cricket-ball sized structures that still held firm to
the plants the mice had originally woven them into many months ago. Needless to say,
the participants were delighted, and a couple that managed a farm on the edge of
Dartmoor were keen to know how they could promote habitat for them on their land.
In response, I pointed at the untidy nature of the meadow that many would claim as
'neglected'.
"Essentially you want that – if you're going to have to mow, do so in small chunks on a
three to five-year rotation, and ensure that you're doing it as late as you possibly can.
These guys can be breeding right into autumn, so mid to late September absolute
earliest. Even better if you can do so in October.  They absolutely love the rough
tussocks formed by cocks-foot."
The initial reaction in their faces was as if they had just sipped a coffee they had
accidentally added salt into instead of sugar. "Ah… I mean we've always seen cocks-foot
as a weed to get rid of, for starters. And we'd never have thought to cut that late."
It's an understandable reaction, when the timing and method for cutting meadows has
been so deeply instated for hundreds of years. Meadows are not an ecosystem in an
original sense – they are a product of low-intensity farming created to provide winter
feed for livestock, that also just happen to be great habitat for a huge suite of plants and
animals, including harvest mice. Traditionally, these were cut in mid-June to July in
order to provide the most nutritious fodder, but with the industrialisation of agriculture
and the advent of silage, we have lost over 97% of these agricultural systems that
happen to benefit a lot of wildlife. Continue reading →